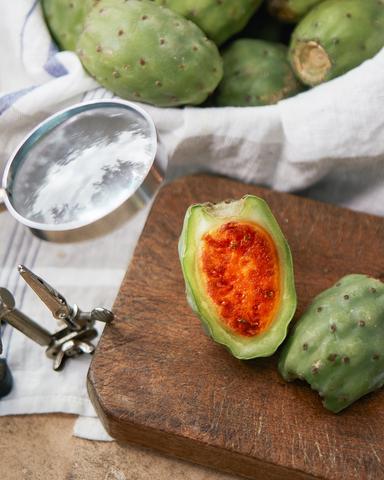 Prickly pear oil is obtained from the seeds of the prickly pear fruit. This cactus, originally from Latin America, develops in particular around the Mediterranean basin. To extract a single liter of oil, you need about a ton of figs. This extremely low yield explains its high cost. The price per liter can indeed reach up to 1000 euros.

Often packaged in small bottles, prickly pear oil remains perfectly accessible. Although very rare, it proves to be very effective in cosmetics.

Prickly pear oil is packed with moisturizing active ingredients
Rich in sterols and vitamin E, it protects the skin against the harmful effects of free radicals. Due to its composition, it is far ahead of other active ingredients such as argan oil. Prickly pear oil also contains omega-6 in good proportion. These play an essential role in fighting against dehydration of the skin and also participate in cell renewal.

In summer, prickly pear oil will delight dry hair. It is used purely, directly on the tips, or as a pre-shampoo treatment.

Very good anti-aging asset

Prickly pear oil is particularly recommended for the care of mature skin. Thanks to its strong antioxidant power, it reduces the effects of aging and acts as a barrier against premature aging of the epidermis. In daily care, prickly pear oil will restore firmness and elasticity. It can therefore be applied to wrinkles or as an eye contour treatment. Thanks to its light, slightly oily texture, it penetrates very quickly.
For more effectiveness, it is better to apply it in the evening before sleeping. The cell renewal process is activated during the night. We also note that hydration plays a major role in preventing wrinkles. It is therefore necessary to choose a product suited to your skin type.

It naturally reduces stretch marks and scars

It is not uncommon to also find prickly pear oil in creams against stretch marks or for sensitive skin. Thanks to its restorative properties, it is very effective in reducing scars. It can, for example, be used to reduce the traces of acne pimples.
In the evening, apply a few drops to the affected area, then massage until complete penetration of the product.

How to choose your prickly pear oil?

We favor pure oil, from organic farming, without additives. Because of its rarity, prickly pear oil is often mixed with other ingredients, sometimes harmful. You can sometimes find oily maceration of prickly pear. Much less expensive, this asset is also less effective.